CMC GROUP
Seriousness, security and reliability
Fundamental Principles of Empresas de Servicios CMC SA.

Solid structure dedicated to the provision of a service according to the requirements that the large companies are looking for in its main strategic partners.
MAIN
ASSET
Strength and prestige based on the development and ongoing training of the human resources, the main asset.

Extensive coverage in the national territory through its experienced network of professionals and competent staff in customs management, national and international port, air and land charges
QUALITY CERTIFICATION
ISO 9001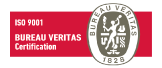 ISO 9001:2015 Standards, ensures successful operational traceability involving the entire company.

Quality Management system, with international certification from Bureau Veritas International INC. Own staff assigned and committed to fulfilling its quality objectives.

Reliable traceability of every operational process from the beginning.